There are a lot of factors to consider when preparing for a photoshoot, and one of the most important aspects is choosing the perfect maternity photo shoot outfits.
Dressing your growing bump in the most flattering and comfortable way can make a huge difference in capturing stunning maternity photos. From elegant maternity dresses to cozy casual ensembles, the options are endless.
In this blog, we will explore various outfit ideas, tips, and tricks to help you look and feel your best during your maternity session while also highlighting the importance of documenting your pregnancy journey beautifully.
So, if you're ready to make your maternity photos extra special, keep reading and let's dive into the world of maternity fashion!
What is the best color to wear for maternity pictures?
First and foremost, choosing the right color for your maternity clothes during your maternity shoot is essential to highlight your beautiful baby bump and create stunning images. Shades like white, cream, light gray, tan, khaki, and even pastels in blush, faint blues, and minty teals, will give your photos a fresh, romantic vibe.
These colors are universally flattering and work well for pregnant mamas and their spouses for such special memories. Moreover, these colors allow your baby bump to be the center of attention, which is the main focus of your maternity shoot.
What kind of dress do you wear for a maternity photoshoot?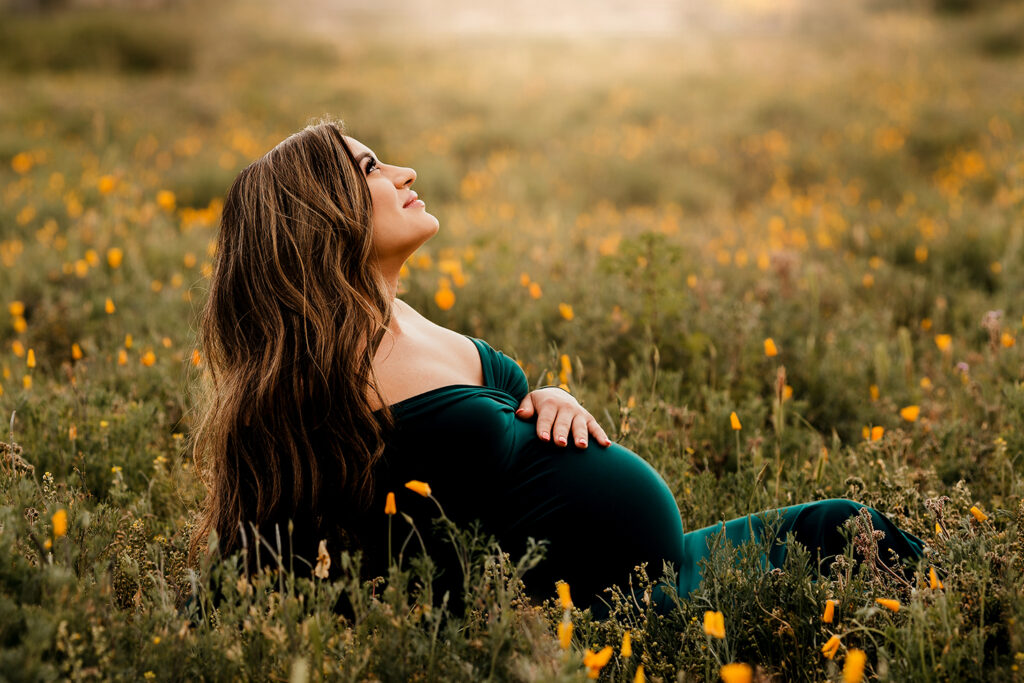 For a maternity photoshoot, it's important to choose a dress that not only complements your baby bump but also makes you feel comfortable and confident. Flowy maxi or midi-length dresses are a fantastic option. They immediately create long lines and give your images plenty of motion. Long dresses, especially those with lace details or made from lightweight, flowy fabrics, add a touch of elegance and sophistication to your photos.
Lace dresses, in particular, offer a romantic and timeless look, while formal dresses can bring a sense of grandeur to your maternity session. If you prefer a more form-fitting option, bodycon dresses are an excellent choice, as they can beautifully accentuate your baby bump and showcase your curves.
Ultimately, the key is to find a dress that makes you feel gorgeous and comfortable, whether it's a flowy dress or a bodycon style.
What should my husband wear for maternity photos?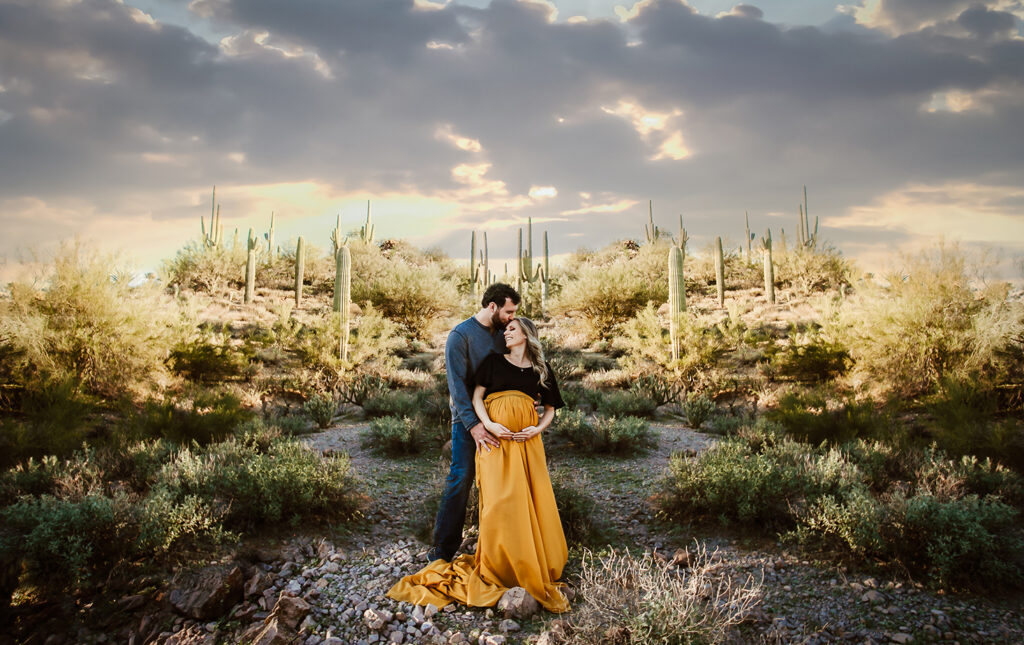 Now that you've picked out the perfect long dress or flowing maxi skirt for your maternity photoshoot, it's time to consider what your husband should wear for the maternity session. His clothes should complement whatever you wear, without overshadowing you or your bump. For instance, if you select an ivory gown, he should opt for understated earth tones, too.
When coordinating outfits, it's crucial to keep in mind the overall aesthetic and color palette of your maternity photos. If you're wearing a vibrant, patterned dress, your husband could wear a solid-colored shirt that matches one of the colors in your dress. On the other hand, if you're opting for a more neutral or pastel-colored outfit, he could wear a simple, well-fitted shirt and trousers in corresponding shades.
The key is to create a cohesive and harmonious look that will enhance the beauty of your maternity photos and make the experience even more memorable.
Useful Tips on How to Dress for Your Maternity Photo Session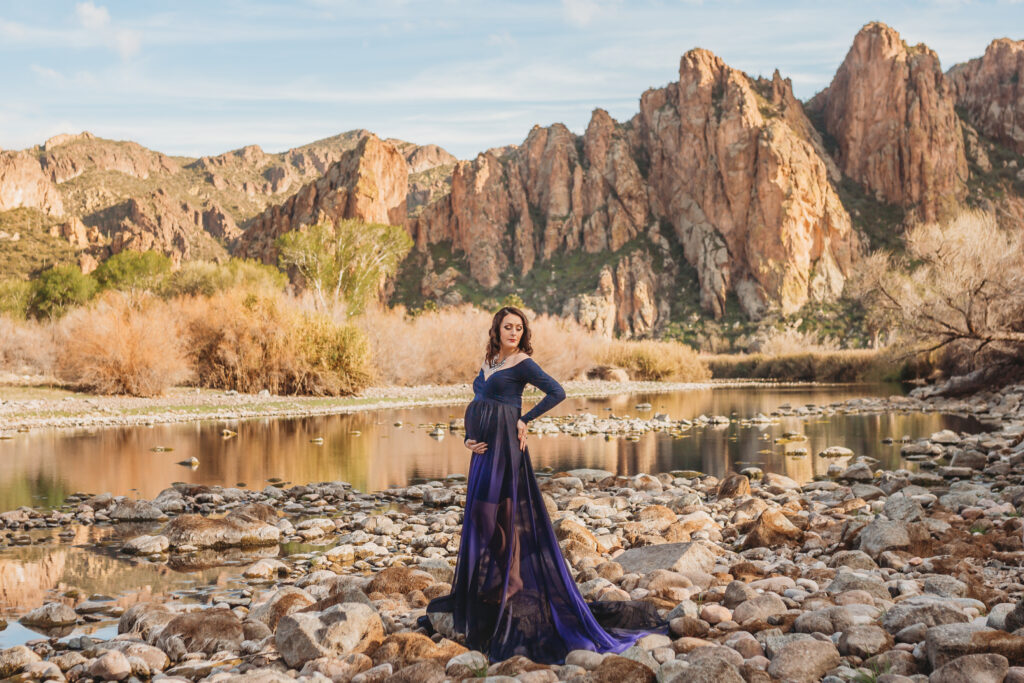 Choose a Flattering Silhouette
When selecting your outfit for a studio maternity photo shoot or outdoor session, it's essential to choose a silhouette that flatters your growing baby bump.
Flowy dresses, empire waist gowns, and bodycon styles are all excellent options that can accentuate your curves and make you feel confident and beautiful during your maternity session.
Keep the Color Pallete Simple
A simple and cohesive color palette can make a significant impact on your studio maternity photos.
Opt for neutral shades, pastels, or earth tones, as these colors tend to be universally flattering and can make your baby bump the focal point of the images. If you prefer a pop of color, consider incorporating it through accessories or a single statement piece.
Coordinate Colors With Your Spouse and Children
To create a harmonious look in your maternity photos, coordinate your outfit with your spouse and children. If you're wearing a flowing maxi skirt or dress, consider having your spouse wear a simple, well-fitted shirt and trousers in corresponding shades.
For children, opt for outfits that complement the overall color palette without being too matchy-matchy.
Accessorize With Meaningful Jewelry or Accessories
Adding meaningful jewelry or accessories to your maternity photo shoot outfit can elevate your look and add a personal touch to your images. For example, consider wearing a necklace that holds sentimental value, a family heirloom, or a piece of jewelry gifted by your spouse. These small details can make your maternity photos even more special and meaningful.
Incorporate Layers and Textures
Incorporating layers and textures can add depth and interest to your maternity photos. For a studio maternity session, consider wearing a chunky knit cardigan or a lightweight scarf to add warmth and texture to your outfit.
For maternity photo shoots outside, layers can also help you stay comfortable in changing weather conditions.
Consider the Location of Your Photoshoot
When planning your outfits, it's crucial to consider the location of your maternity photoshoot. For a studio maternity session, you may want to opt for a more formal or elegant look, such as a long gown or a fitted dress.
For outdoor shoots, you might choose a more casual outfit, like maternity jeans or even pre-pregnancy jeans unbuttoned with a loose, breathable fabric top.
If your maternity photo shoot is taking place in a more intimate setting, such as your home, you could wear lingerie or a cozy robe to showcase your bump in a more personal and relaxed environment.
Plan for Multiple Outfit Changes
To add variety to your maternity photos, consider planning for at least one casual outfit and one more formal option. This could include wearing jeans and a comfortable top for a laid-back look, then changing into a flowy dress or elegant gown for a more polished appearance.
By following these useful tips, you can ensure that your maternity photo session captures the beauty and excitement of this special time in your life, creating memories that you and your family will cherish for years to come.
Fabrics to Avoid for Maternity Photos
While there are endless options for what to wear during maternity sessions, there are certain fabrics that may not be the most flattering or comfortable for expecting mothers during maternity photoshoots.
Stiff cotton, for example, can be restrictive and unyielding, making it difficult to showcase your baby bump in the most flattering way.
On the other hand, super stretchy fabric, while comfortable, may cling to your body in an unflattering manner and not provide the desired silhouette for your photos.
FAQs
How many outfits should you bring to your maternity photo shoot?
It's a good idea to bring 2 to 3 outfits to your maternity photo shoot. This allows for variety in your photos and the opportunity to showcase different styles or moods.
For example, you could bring one casual outfit, one more formal or elegant option, and a third outfit that features a bold print or unique design.
Should my spouse and I wear matching outfits for our maternity photo shoot?
While you don't need to wear matching outfits for the same occasion, it's essential to coordinate your clothing choices to create a cohesive look in your photos. This can be achieved by selecting complementary colors, patterns, and styles.
For example, if you're wearing a flowy dress in a pastel shade, your spouse could wear a plain shirt in a similar color or a pattern that includes the same hue.
The key is to ensure that both of you look equally casual or formal, and your outfits match styles without being overly coordinated.
Can I wear bold prints or patterns during my maternity photo shoot?
Yes, you can wear bold prints or patterns during your maternity photo shoot. However, it's essential to strike a balance between making a statement and ensuring that your baby bump remains the focal point of the images.
A few examples of how to incorporate bold prints or patterns include wearing a patterned scarf, a statement necklace, or a dress with a unique design. Just be sure to balance these elements with neutral colors in the rest of your outfit and your spouse's attire.
How can I ensure that my maternity photo shoot outfits are comfortable and flattering?
To ensure that your maternity photo shoot outfits are both comfortable and flattering, opt for soft, breathable fabrics that drape well over your baby bump.
Additionally, choose silhouettes that accentuate your curves and make you feel confident. It's also a good idea to try on your selected outfits before the shoot to ensure a proper fit and make any necessary adjustments.
By prioritizing comfort and fit, you can feel at ease during your maternity session, allowing your natural beauty to shine through in your photos.
Final Thoughts
In conclusion, dressing for a studio maternity photoshoot is all about showcasing your beautiful baby bump and feeling comfortable in your own skin. Choose outfits that highlight your pregnancy curves, incorporate meaningful accessories, and don't be afraid to play with colors and textures. Remember, this is a special moment in your life, and your photos should reflect your unique journey.
Let Madison Grey Photography, an Arizona Photography Studio, capture these precious memories with our expertise in maternity, newborn, cake smash, fine art child sessions, family, and seniors photography.
Book your studio maternity photoshoot with us today and let's create stunning images you'll cherish forever.