Welcoming a newborn baby into the world is a joyous occasion filled with precious moments that parents want to cherish forever. One way to capture those early memories is through a newborn photo shoot, a beautiful way to freeze time and preserve the innocence and sweetness of your little one.
However, many parents wonder if they can request a specific theme for their newborn photography session. The answer, as with many things, depends on the plan or contract you have with your chosen photographer. Some photographers offer a range of themes and props to choose from, while others may have predefined packages.
In this blog post, we will explore the possibilities and discuss how you can make your newborn photos truly unique and memorable.
So, if you're curious about creating stunning and personalized newborn photos, keep reading!
Is It Possible To Request a Specific Theme From Your Newborn Photographer?
Yes, it is absolutely possible to request a specific theme for your newborn session. While many newborn photographers may have predefined packages, at Madison Grey, we understand that every family is unique and that you want your newborn portraits to reflect your personal style and preferences.
That's why we offer our newborn photography clients a flexible plan that caters to changes and allows you to bring your vision to life. Whether you envision a whimsical fairytale setting, a cozy rustic theme, or something completely different, we are here to collaborate with you and make memorable memories that capture the essence of your precious little one.
Because after all, it's not just a newborn session—it's about celebrating your baby's milestone.
5 Fun Themes for Your Newborn Photography Sessions
Capturing the precious first few weeks of your new baby's life through newborn sessions is a unique and joyous experience. Choosing a theme that resonates with your family's vibe and personality can make it even more special.
Here are five fun themes that you can consider for your newborn photography sessions.
"Storybook Land" Theme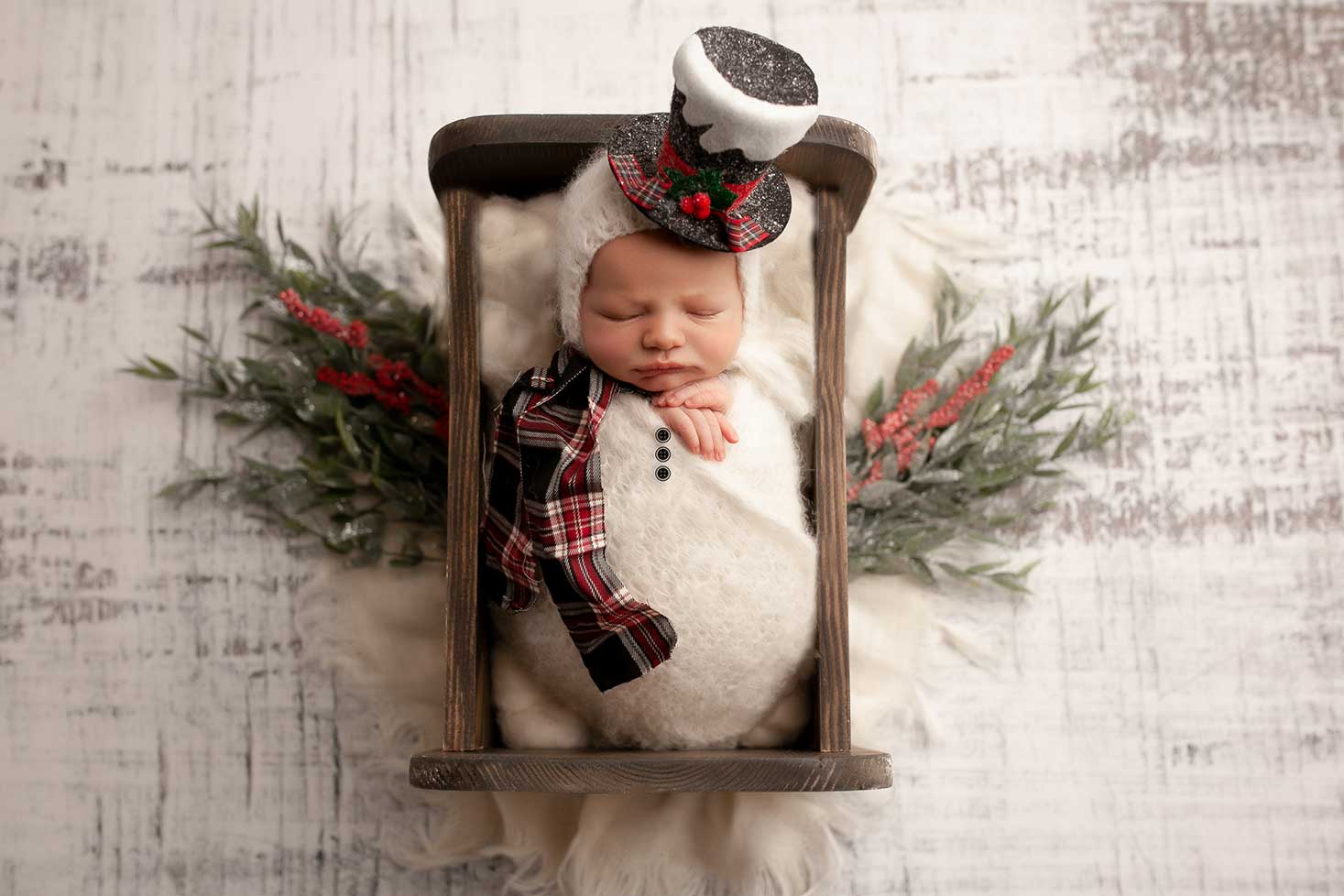 Delve into the enchanting world of fairy tales, cherished bedtime stories, and classic nursery rhymes for this newborn session theme. Dress your newborn boys and girls in cute costumes resembling favorite characters from popular stories. This theme welcomes props like storybooks, tiny crowns, miniature fairy wings, and plush animals, ensuring a magical studio session that mirrors a storybook illustration. Whether it's just your baby or the entire family involved, these images will serve as an eternal testament to your child's first fairy tale.
"Home Sweet Home" Theme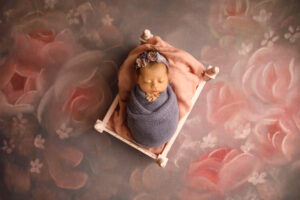 Celebrate the arrival of the new baby and the first few weeks at home with this theme. Showcase the happiness and warmth of a baby's arrival within the comfort of your own home. Capture cozy moments in the nursery, the older siblings curiously peeping into the crib, or the baby warm and swaddled in a hand-knit blanket. This theme beautifully encapsulates the intimate bond of the new family member with the rest of the household.
"A Day at the Beach" Theme
If your family has a knack for outdoor adventures, then a beach-themed newborn session might be perfect for you. Use props like beach hats, sunglasses, tiny flip-flops, or even a mini surfboard for newborn boys and girls. Include your older siblings in the fun, making sandcastles or playfully splashing water. This theme ensures a sunny, cheerful studio session that will take you back to the beach every time you see the pictures.
"Little Aviator" Theme
Airplanes and clouds make for a dreamy, adventurous theme, especially for newborn boys. Create a whimsical sky backdrop and include miniature airplanes, fluffy white clouds, and even a pilot's hat. This high-flying theme will capture the limitless potential of your new baby and the adventures awaiting them.
"Blooming Love" Theme
This theme is perfect for newborn girls, incorporating floral elements and warm pastel hues. Dress your baby in delicate lace outfits, place them on a bed of soft, fragrant petals, or pose them next to a vase of fresh flowers. Involve the entire family in some photos, enhancing the theme of blooming love and growth, a symbolic representation of your baby's arrival and the blossoming of a new chapter in your family's life.
Newborn Photography Tips for Parents
As the joyous day of your baby arrives, photographing newborns is an exciting yet challenging task. The fleeting moments of your baby's first few weeks are priceless and deserve to be captured perfectly.
Here are some valuable tips to ensure you're prepared for a successful newborn photography studio session.
Schedule Early
Newborn photography is ideally done within the first two weeks after the baby is born, when they sleep the most and are easy to pose. Therefore, it's best to book your session early, perhaps even during your pregnancy, to ensure the photographer's availability aligns with the expected arrival of your baby.
Keep the Baby Comfortable
Comfort is key when photographing newborns. A warm and cozy environment keeps the baby relaxed and asleep, leading to more successful posing and less fussiness. You can consider feeding your baby before the session to ensure they are content and sleepy.
Incorporate Personal Touches
Bringing along meaningful items like a family heirloom, a soft blanket, or a gifted toy can add a personalized touch to your photos. These props not only make your digital images more special but also tell a deeper story about your family members and their connection to the newborn.
Plan Your Shots
Discuss with your photographer beforehand about the shots you want, including those involving family members. Photographers are skilled in advising on poses that look natural and beautiful. Remember, safety is paramount, and some poses require professional handling or compositing in post-processing to ensure the baby's safety.
Be Patient
Patience is crucial in newborn photography. Feedings, diaper changes, and comforting the baby may prolong the session. Embrace these pauses as a part of the process, ensuring the baby is comfortable and content throughout.
Preserve the Memories
After your session, make sure to back up your digital images. Consider ordering professional prints or custom-designed albums to showcase the beautiful images from this special time in your family's life.
By preparing ahead and following these tips, your newborn photography session should be a relaxed and enjoyable experience for you, your baby, and the family members involved. Remember, these images are a celebration of life and love – a memory to cherish forever
Final Thoughts
The arrival of a newborn baby is a remarkable and precious time for any family. This magical milestone deserves to be captured through unique, timeless, and customized photography that brings to life your family's distinctive story. And the beauty of newborn photography lies in its capacity to encapsulate these fleeting moments into forever keepsakes.
So whether you fancy a whimsical fairy tale theme, a comfy home session, or a vibrant beach shoot, at Madison Grey, we are excited to collaborate and bring your vision to life.
We pride ourselves on offering flexible, personalized, and distinctive newborn photography services, right here in Peoria, AZ, and other nearby areas. After all, it's not just a photo session; it's about celebrating life's precious beginnings.