Pregnancy is an exciting journey, filled with anticipation and joy as you watch your growing baby bump. Capturing these precious moments in a maternity photo shoot can be an exhilarating experience.
The best time to schedule maternity photo sessions is somewhere between 26 and 34 weeks – that's 7 or 8 months into your pregnancy.
At this stage, your bump is fully showing, round, and beautiful, adding a unique charm to your photos. Plus, it's far enough from your due date that you're still comfortable and there's no risk of delivering before you even make it to your session!
Why Between 26 and 34 Months?
As much as you would love to capture the full roundness of your baby bump in your maternity pictures, scheduling your maternity photo session earlier than the full-term stage can be advantageous. This is primarily because not all pregnancies progress at the same rate, and the experiences can vary greatly.
Firstly, the charm of your maternity pictures lies in the prominence of your baby bump, which is typically evident by the second trimester. Your bump is clearly visible, leaving no doubts that you're glowing with impending motherhood. This is well before you reach full term, during your third trimester, when a few challenges might surface.
Here are some reasons why an early session might be more advantageous:
Comfort:

As beautiful as the process is, the last few weeks of pregnancy can be uncomfortable. This discomfort could potentially reflect in your photos, detracting from the charm and joy you want to capture.

Avoiding Unexpected Surprises:

Simply put, babies arrive when they're ready. Scheduling your photo shoot well before your due date reduces the risk of missing the opportunity because your little one decided to make an early appearance.

Safety:

Maternity photo sessions involve a fair amount of movement. For those with a high-risk pregnancy or nearing full term, this could potentially induce early labor. An earlier session, when your center of gravity is more balanced, ensures that you can strike those adorable poses safely.
What If You Have Twins or Triplets?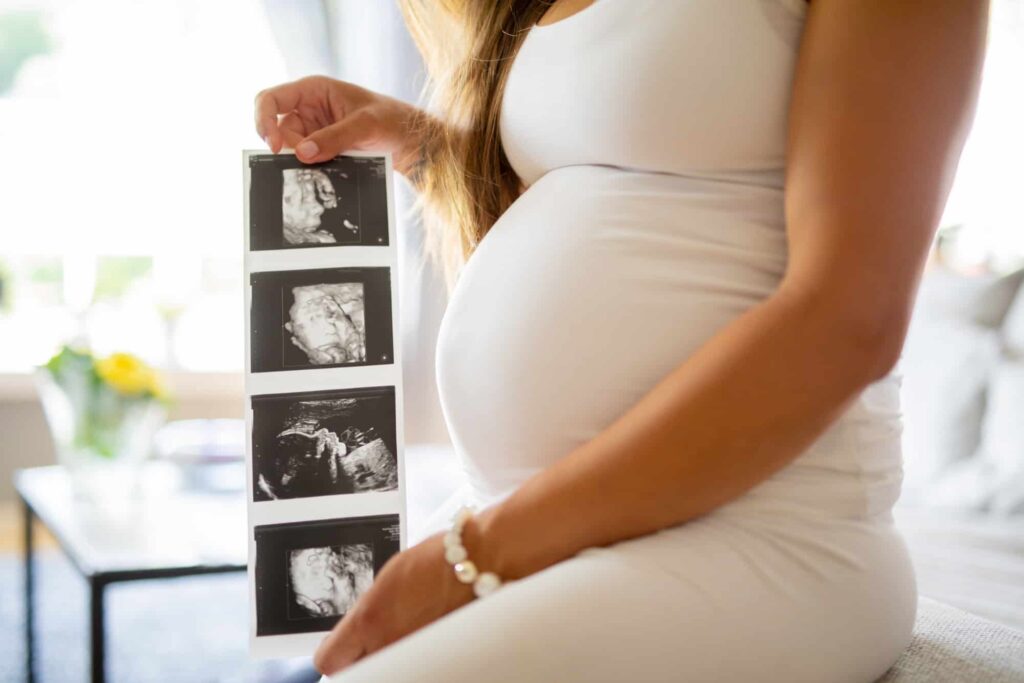 If you're expecting multiples, you might notice your beautiful baby bump is larger than those with single pregnancies. The size of your belly can increase rapidly, and it can become a bit challenging to move around freely during a maternity photoshoot. Therefore, it's advisable to schedule your maternity session earlier than those expecting one child.
Typically, around the 24-week mark is a good time for expecting moms of multiples to plan their maternity shoot. This ensures your belly is round and prominent, but not to the point where movement and posing are made uncomfortable.
Remember, the beauty of a maternity photoshoot lies in the glow of the expecting mother and the anticipation of the new arrivals, so it's essential to capture your pregnancy journey when you're most comfortable and radiant.
High-Risk Pregnancy
In cases of high-risk pregnancies, it's best to consult your doctor before scheduling a maternity photoshoot. Some factors that could indicate the need for extra caution include a history of premature labor, severe morning sickness, or any potential health risks during pregnancy.
Your doctor will be able to provide you with expert advice regarding the right time for your maternity photoshoot. Safety should always be your priority, so it's important to heed the doctor's advice.
When is the Best Time to Take Maternity Photos?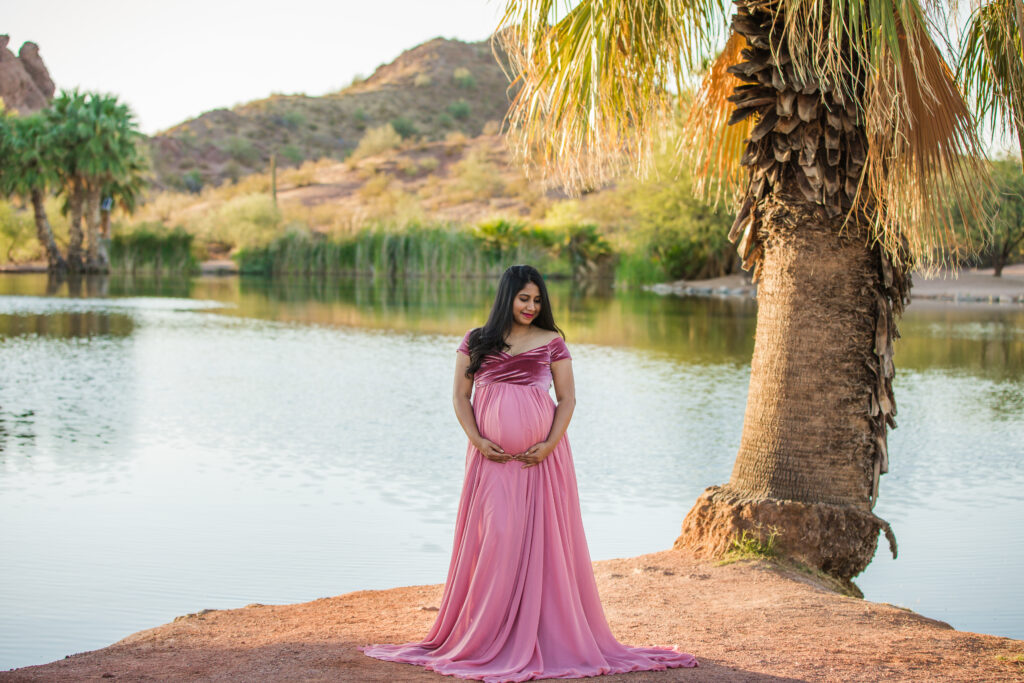 The sooner you book your maternity photos, the better. Maternity photography is not as flexible as family photography, and waiting too long could mean that your first-choice maternity photographer may not be available. If you need to postpone a family photo shoot to a later date, it usually isn't that big of a deal.
However, you don't have that luxury with maternity photo sessions. For pregnancy photos, you want to make sure you're taking the pictures at the optimal time for your pregnancy. It is recommended to book your maternity photographer no later than your second trimester.
By doing this, you'll still have a variety of photographers, session times, and dates to choose from, ensuring you capture your pregnancy journey beautifully and in a timely manner.
Key Takeaways
So, soon-to-be mums, don't wait to book your maternity photos! Cherish these unforgettable moments of anticipation and joy with a professional maternity photoshoot. Remember, every pregnancy journey is unique and beautiful, deserving to be captured in its full glory.
At Madison Grey Photography, we are passionate about documenting this special season of your life. We are a boutique photography studio based in Peoria, Arizona, providing fine art maternity photography, newborn photography, and child portraiture.
With our personalized and professional approach, we ensure your comfort and satisfaction while capturing the beauty of your pregnancy journey in stunning detail.
Book maternity photos today and celebrate your motherhood with Madison Grey Photography.